Composition
Epidermis

Human keratinocytes & melanocytes

Dermis

Fibroblasts _ Collagen matrix
Characteristics
Skin model composed of living cells, with the possibility ofcell metabolism and response measurement.
Melanocytes reside in the basal layer, and is structured similar to human skin including a full layer of epidermis and dermis (Figure 1).
A lighter and darker model can be chosen depending upon the level of melanin synthesis in melanocyte, Neoderm-M (Figure 2) and Neoderm-B (will be ready soon).
It can be used to evaluate changes in melanin content in the skin following ultraviolet ray exposure or drug/cosmetics applications.
It can also be used to study the mechanism of melanogenesis by ultraviolet ray exposure or by hormones such as MSH (melanocyte-stimulating hormone) and ACTH (adrenocorticotropic hormone).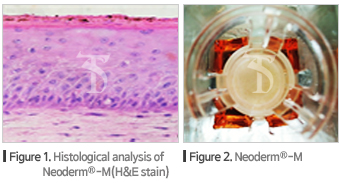 Applications
Lightening test

Fontana-Masson stain / DOPA stain
Melanin content assay
Tyrosinase activity

Melanogenesis Research

Measurement of changes in melanin synthesis
by hormones, cytokines or inhibitors

Irritation Test

Cell viability (MTT), IL-1α or PGE2 (ELISA)

Permeation Test

Barrier function & Permeation test (HPLC)

Skin Regeneration & Elasticity Test

Histological and morphological changes (H&E staining)
Proliferation rate of keratinocytes (MTT, IF)
Analysis of secreted proteins in keratinocytes
(ELISA, Western blot, PCR, IHC)
Collagen synthesis (ELISA, IF)

Wound Healing Assay

Analysis of healingeffect in wound healing model (H&E staining)

Other molecular biological analysis

Proteomics and RNA array analysis
Well Type
6-well, 12-well
TEGO SCIENCE provides Contract Research Services using Neoderm®-M and Neoderm®-B